Engineered Wood Fiber (EWF) is one of the most popular choices for playground surfacing due primarily to its low costs to install and perceived low costs to maintain. It differs from landscape mulch as it is made from wood selected specifically for use on playgrounds and is typically screened for any foreign objects, toxins or allergens.

Safety

Cleanliness

Care & Maintenance

ADA Compliance & Accessibility

Aesthetics & Design

Installation Cost

Lifetime Cost
Engineered Wood Fiber
Safety
Engineered Wood Fiber can cushion impacts better than other natural loose-fill materials when installed to the proper depth. However, since it can become displaced over time, care must be taken to ensure the material is spread to a consistent depth across the playground. EWF also loses some of its impact-attenuating properties in freezing temperatures - so this should be taken into consideration for playgrounds in northern and higher elevation areas. Additionally, there are also the general safety issues associated with most loose-fill surfacing.
Can be displaced easily with high traffic - especially in critical areas
Spreads to nearby walkways causing potential slipping hazards
Can be a potential choking hazard for small children
Can get in the eyes, mouths or hair of children
When exposed to moisture can be subject to microbial/bacteria growth
Due to these concerns, preschool and daycare facilities have been moving away from EWF for many years.
Note: For the highest safety standards, ensure your engineered wood fiber surface passes the ASTM F1951 lab test after installation. In order to evaluate the safety of EWF when compared to other playground surfaces view fall heights.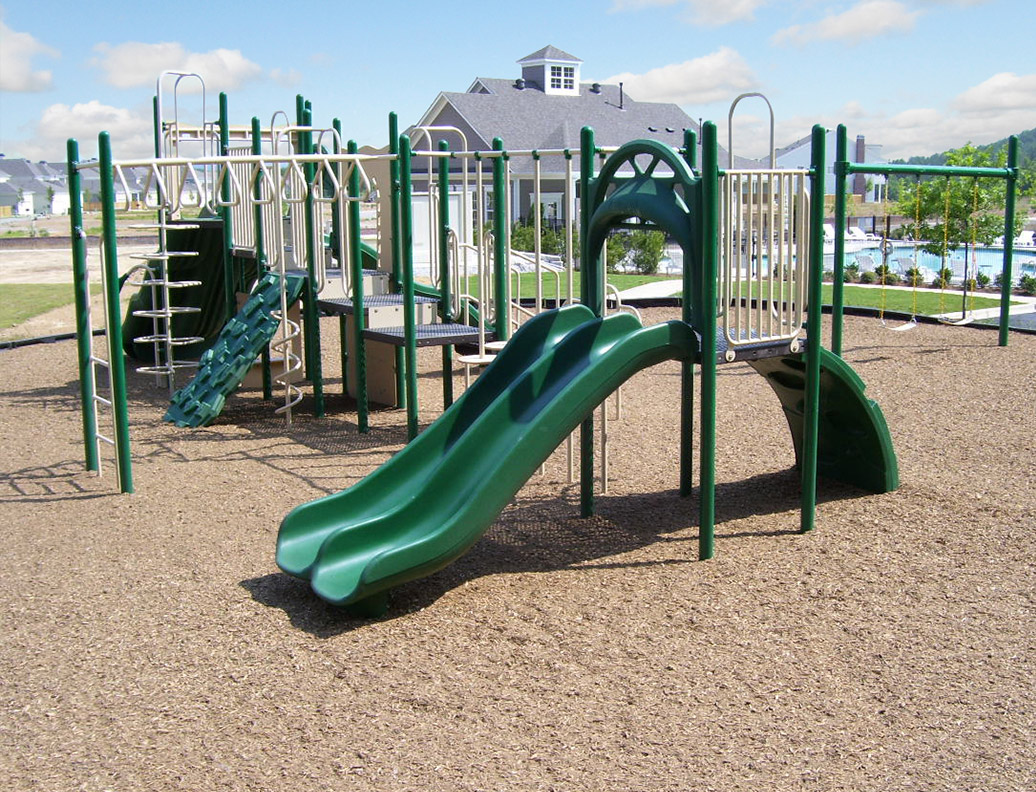 Engineered Wood Fiber
Cleanliness
EWF is a very clean material when initially installed, however, like all loose fill materials, it can become contaminated very quickly if it is not regularly inspected and maintained. It also can be tracked into surrounding areas and must be replaced every few years as it is prone to decomposing from wet weather, which can exacerbate microbial growth.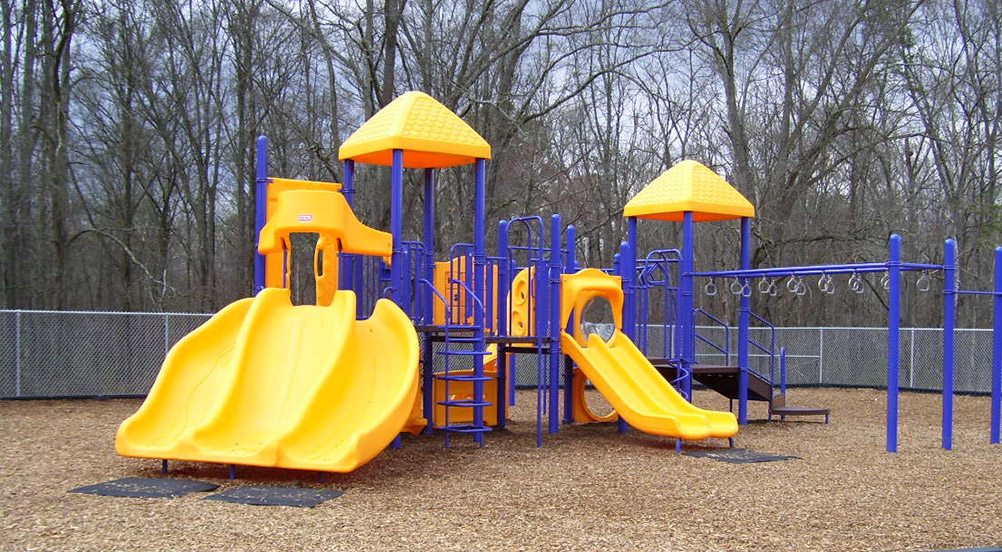 Engineered Wood Fiber
Care & Maintenance
Maintenance is an ongoing effort with any loose-fill material and especially with EWF. Keeping the depth of material at the appropriate levels to meet fall-height standards is the biggest challenge and why it gets such a low grade. Realistically, a playground with EWF surfacing really needs to be raked on a regular basis if it is going to adequately protect children. Plus, EWF will settle over time and requires frequent "topping off" as well as complete replacement every few years to remain compliant.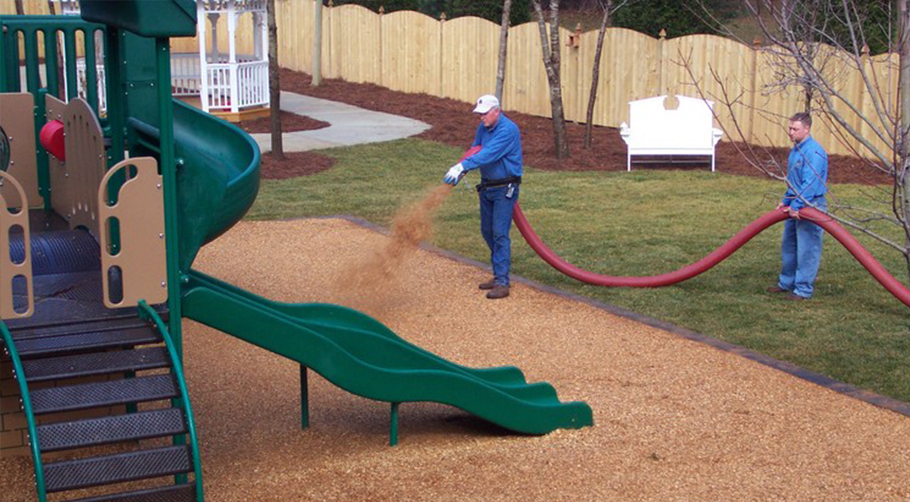 See How XGrass is
Reinventing the Playground
Learn More
Engineered Wood Fiber
ADA Compliance & Accessibility
While EWF is considered an ADA compliant material and typically compacts more uniformly than bark nuggets or landscaping mulch, it is not very user-friendly to those using wheelchairs or other mobility aids. Plus, an extensive amount of upkeep is necessary to maintain its ADA compliance as the surface easily becomes uneven over time.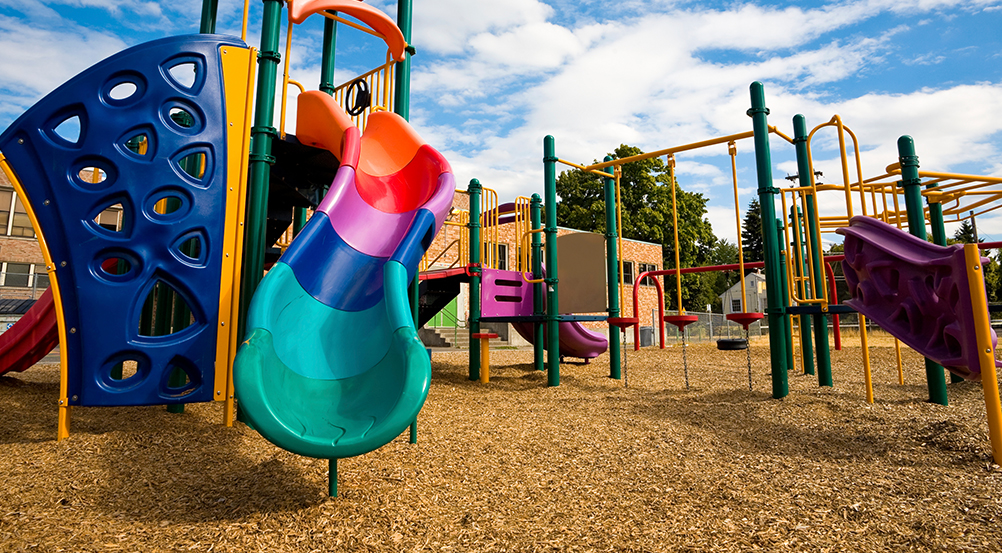 Engineered Wood Fiber
Aesthetics & Design
EWF is a great surfacing material for those wanting a more rustic or natural appearance for their playground. However, like all loose-fill materials, it does not provide a lot of design flexibility and is rarely available in colors.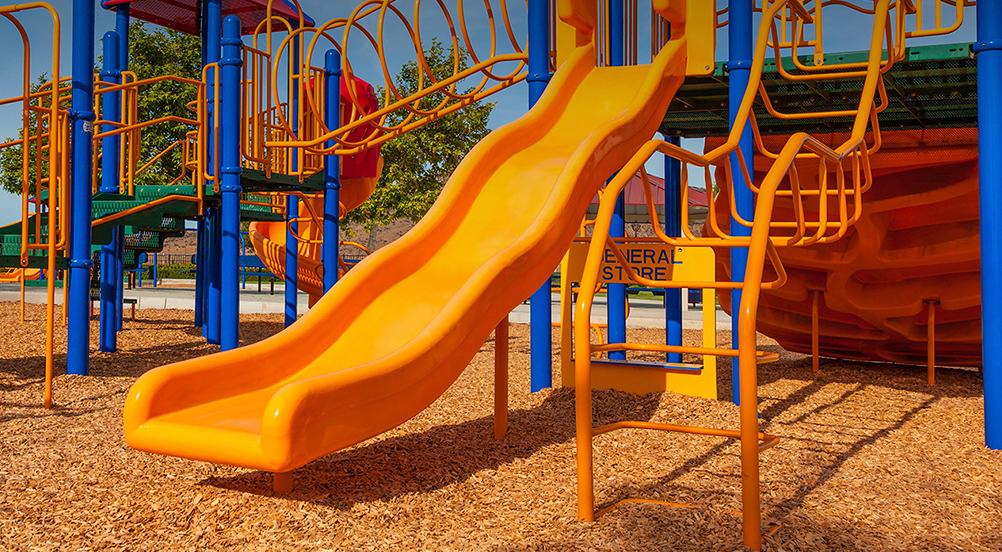 Engineered Wood Fiber
Installation Cost
As noted above, EWF is one of the most popular playground surfacing options because it is not only an inexpensive material, but it is also relatively cheap and easy to install. The ground should first be prepared with a subsurface for rainwater drainage and a geotextile layer to inhibit vegetation growth, but once this is done, EWF can be delivered in large trucks outfitted with blowing equipment that makes installation a breeze.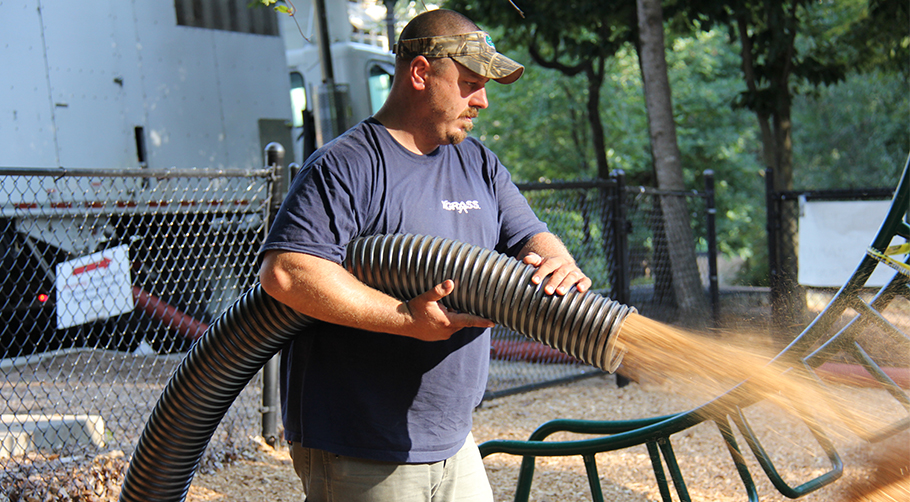 Engineered Wood Fiber
Lifetime Costs
If one only considers the cost of the engineered wood fiber mulch and the costs to install it, then it probably has the lowest lifetime cost of any certified playground surfacing material. However, since keeping it safe, clean and ADA compliant requires nearly constant maintenance, the lifetime costs can be significant. Sadly many playgrounds with EWF are not maintained well. Bare areas form in the high-traffic fall zones where it is most needed and it loses its effectiveness.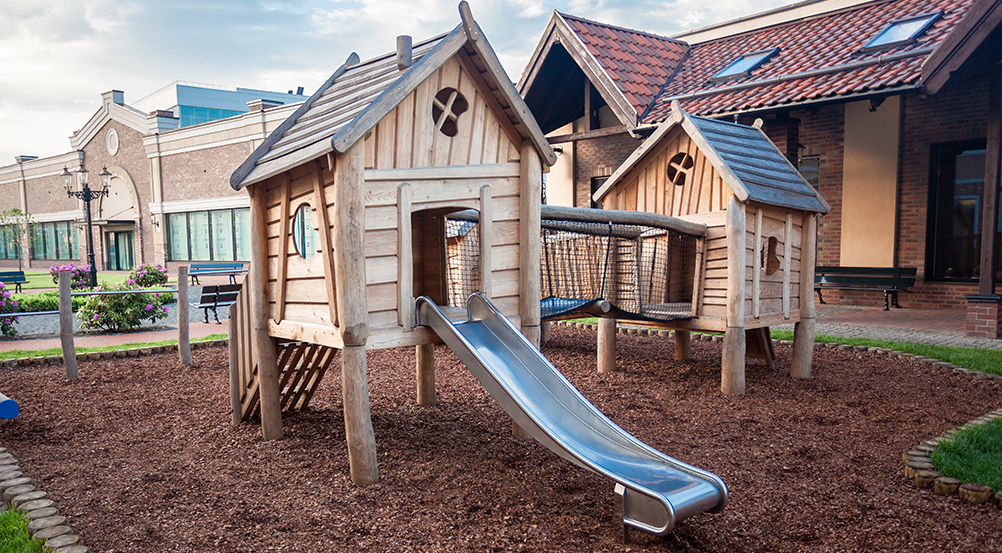 Need Help Specifying The Best Surface For Your Playground?
Contact one of our playground surfacing specialists.
Contact Us