Low Maintenance Artificial Grass Tennis Courts
Made from a special blend of fiber, XGrass synthetic grass courts provide a safe, family friendly surface that brings tennis back to how it was played for the better part of a century. It can typically be installed over an existing tennis court that has been cleaned and sealed and will not crack or split like traditional hard-court surfaces.
Tennis Court
Resurfacing Process
The process of resurfacing starts with ensuring the existing base is even, all cracks are sealed and if installing on a crushed stone base that the base has been compacted to at least 95% compaction. From there, the XGrass installation team will have the turf rolls ready to roll onto the surface that has been customized to your court dimensions and includes tuft, permanent lines. The installation team will affix the new turf court into place and spread the turf infill over the entire court.
Tennis Court
Tennis Court Resurfacing Costs
The cost of resurfacing a tennis court with XGrass synthetic turf can vary greatly depending on a few variables:
Existing base
Size of the court
If any additional repairs need to be made the court prior to installation.
For a standard doubles turf tennis court, costs of turf and installation can be between $30,000 to $60,000. Cost estimates can change greatly depending on the variables listed above, but the XGrass customer care team is sure to work with every customer to ensure the best value and quality with your future court.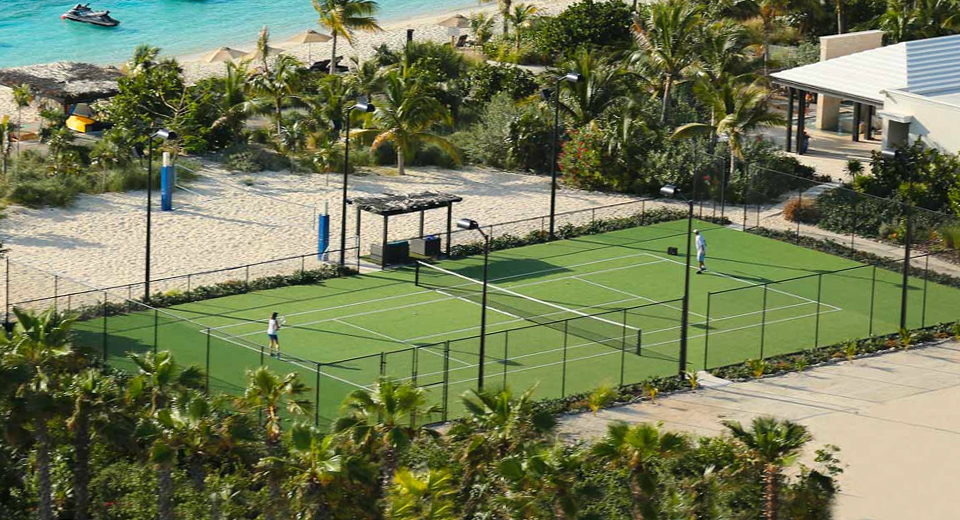 Tennis Court
Xgrass Benefits
Long Term Savings
Over Hard Court Repairs

10 Year Warranty
on Court

1 Year Warranty
on Installation
Tired of resurfacing your tennis court?
Don't Just Resurface
See how you can revitalize your court with solutions from the Recreational Group family of companies.
Learn More