Installing the Perfect Bocce Court
Adding a bocce ball court to one's backyard, community park or other facility is an easy way to Bring Your Space Alive. In this section of our website, we cover 6 key elements to consider when building a bocce court.
Tips to Install the Perfect Bocce Court
Elements to Consider
It is important to consider the different elements that make a great bocce court and the fundamental steps involved with installation and ongoing maintenance.
1. Determine the Location of your Court
Factors to Consider: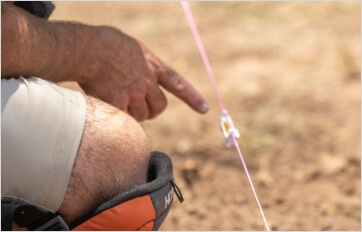 A Flat Surface
For balls to roll true, the installation area needs to be flat.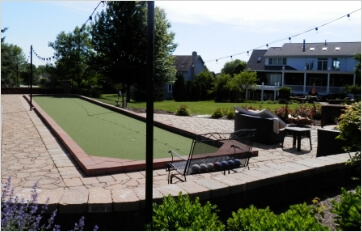 Long & Narrow
You are going to need an area about 50' to 100' long and 15' wide.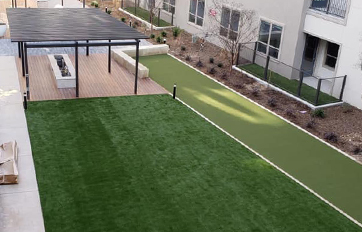 Near Social Area
Bocce is a social game so it's often best near a patio or bar.
2. Determine Court Size & Design
Official Bocce Ball Court Dimensions
The US Bocce Federation states an official bocce ball court is precisely 13' wide x 91' long, but courts can be made virtually size.
Recreational Bocce Ball Court Dimensions
Recreational bocce courts are typically about 10' - 13' wide and anywhere from 40' to 91' long. Some are even designed to serve as putting greens.
Bring the Home
As a member of the Recreational Group family of companies, XGrass specializes in Bringing the Fun Home. By integrating popular amenities like XGrass bocce courts, Tour Greens putting greens and VersaCourt game courts, we transform boring yards into exciting spaces where families and friends can gather to play, exercise and enjoy life.
Bring the Fun Home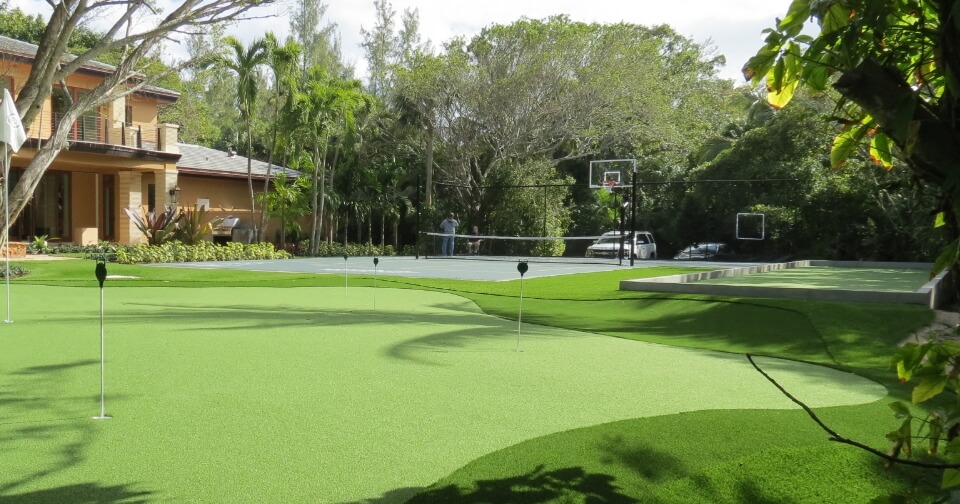 3. Select your Playing Surface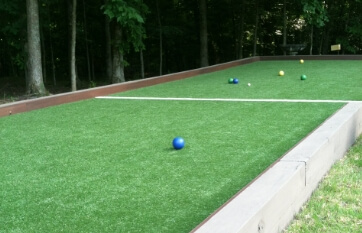 Synthetic Turf
Synthetic turf is the fastest growing surface material being used in bocce court construction as it offers great playability while being very clean and easy-to-maintain.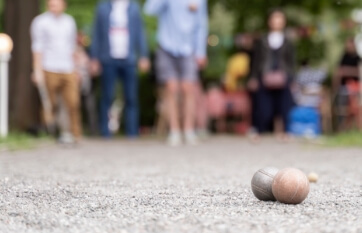 Crushed Oyster Shell
While crushed oyster shell mix is the traditional material used for a bocce court surface, it's not very clean and can be a very difficult and expensive surface to maintain.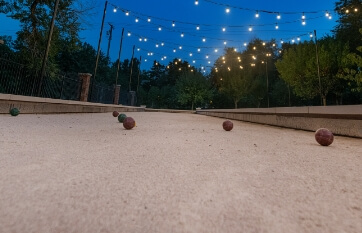 Other Options
Not only do people play bocce on lawns, beaches and other non-traditional surfaces, but there are some other options which one can consider.
4. Choose Base & Drainage Options
A subsurface is vital to reduce ball ruts and ensure proper drainage. XGrass has a proven system that starts with a french drain buried in a bed of 4" gravel. Next, stabilization fabric will be laid down to provide subgrade stability and separation of the soil layer. Last, we highly recommend covering the stabilization fabric with Ultra Base panels. The rigid base panel eliminate ruts completely, ensuring perfect play for years.
The Ultra Base Difference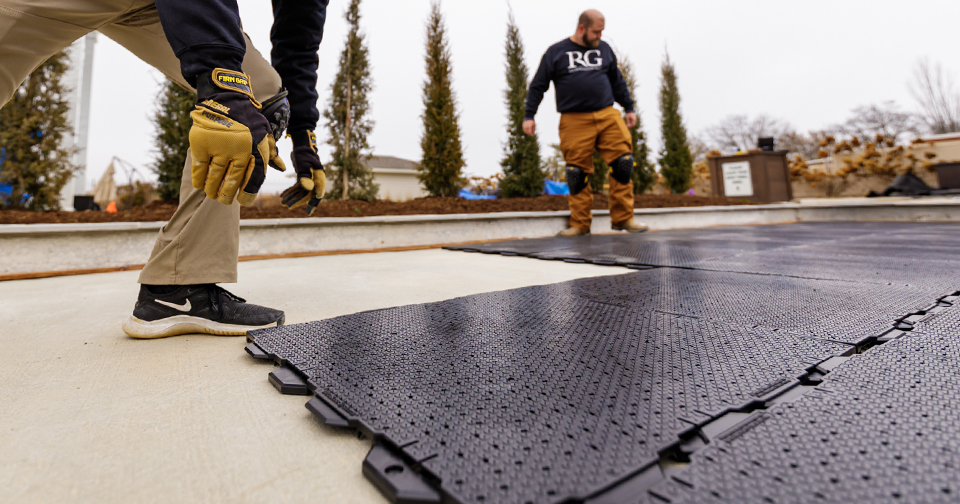 5. Select Border & Frame Options
Bocce court borders or frames typically measure 6 to 8 inches in height and can be made in a variety of materials.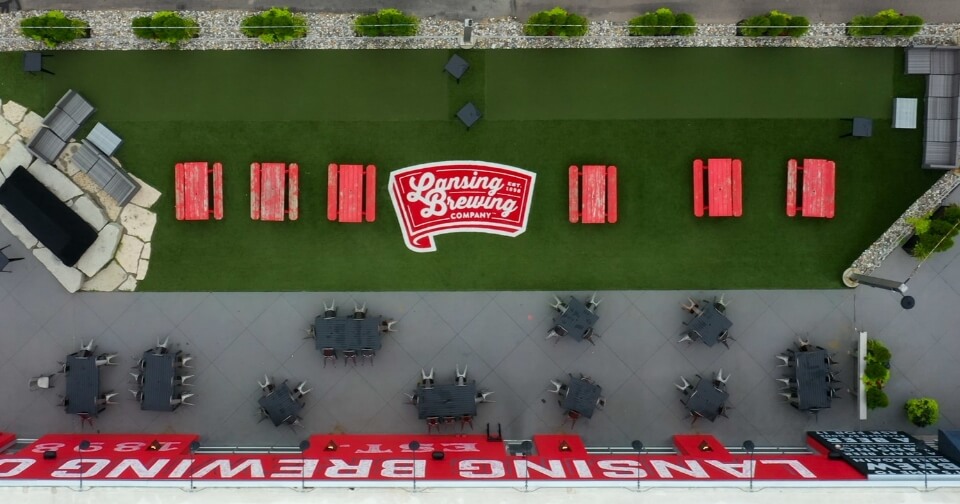 Adding a bocce court is just one way to Bring Your Space Alive. The Recreational Group's family of brands offer a wide variety of innovative amenities - from putting courses to multi-sport game courts - that will enhance the value of your facility, promote active lifestyles, and make your space more fun.
Bring Your Space Alive
6. Maintain & Enjoy
If you choose an XGrass playing surface with a good drainage system, your ongoing maintenance will be negligible and you can focus all of your time and effort on more fun activities like starting a bocce ball league.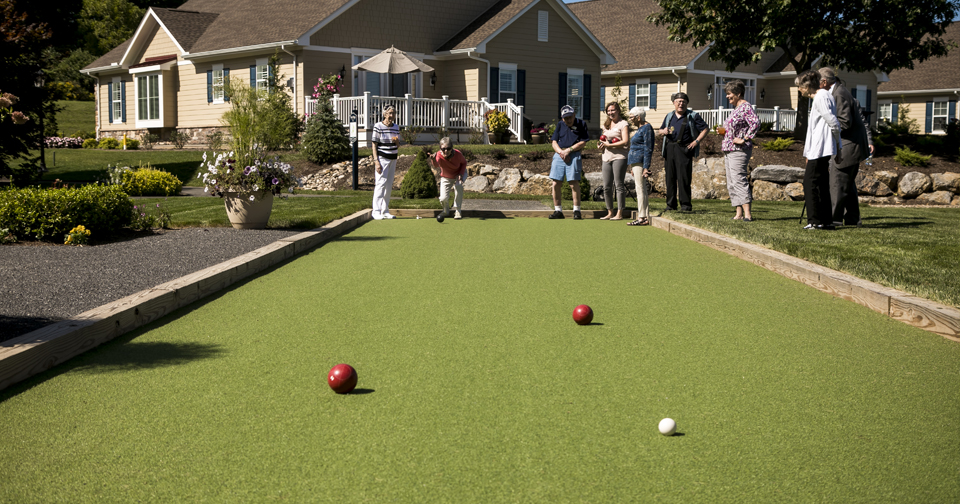 At XGrass, we work hard to provide our customers with all the necessary details about their upcoming project so they can make informed decisions. If you have additional questions about bocce courts, do not hesitate to contact us.