Artificial Grass, Synthetic Turf Fields & Playground Surfaces
Serving the San Francisco market with Synthetic Grass Lawns, Backyard Putting Greens, Playground Surfaces, Artificial Turf Athletic Fields and More. San Francisco is among the top environmentally conscious cities in the nation, often praised for being organic, clean, and green. Given this, the thought of promoting artificial grass in San Francisco seems like a daunting task. However, one must consider that in a world where we're accustomed to thinking of "natural" as good and "artificial" as bad, we suggest that well manicured natural grass is actually an ecologically unsound concept. It uses up lots of water, requires destructive chemicals to keep its "healthy" look and is typically maintained by energy consuming, air polluting lawn mowers and equipment.
San Francisco
Artificial Grass Lawns
For these reasons, XGrass is working with San Francisco businesses, organizations and residents to install more environmentally friendly artificial turf and other surfacing solutions as an alternative to natural grass.
San Franciscans are turning to artificial grass lawns for a number of reasons. It is greener, it requires no pesticides, fertilizers or mowing. It generates no grass clippings and it saves Bay area water. Plus, with artificial grass lawns from XGrass, the time and costs associated with lawn care are nearly eliminated and our synthetic grass lawns keep their attractive appearance for years with minimal maintenance required.
Synthetic Turf for Residential and Commercial Landscaping
San Francisco typically gets a lot of rain from November through March resulting in wet and muddy turf that is both messy and dangerous. From May to September, rainfall ceases and water shortages make keeping grass attractive very difficult. For these reasons, many Bay Area landscape architects are turning to XGrass Synthetic Turf and Bonded Rubber products for landscaping projects. Synthetic turf products do not require water and reduce ongoing maintenance costs while providing environmentally friendly and attractive solutions. XGrass works closely with onelawn, synthetic turf and artificial grass installers in San Francisco.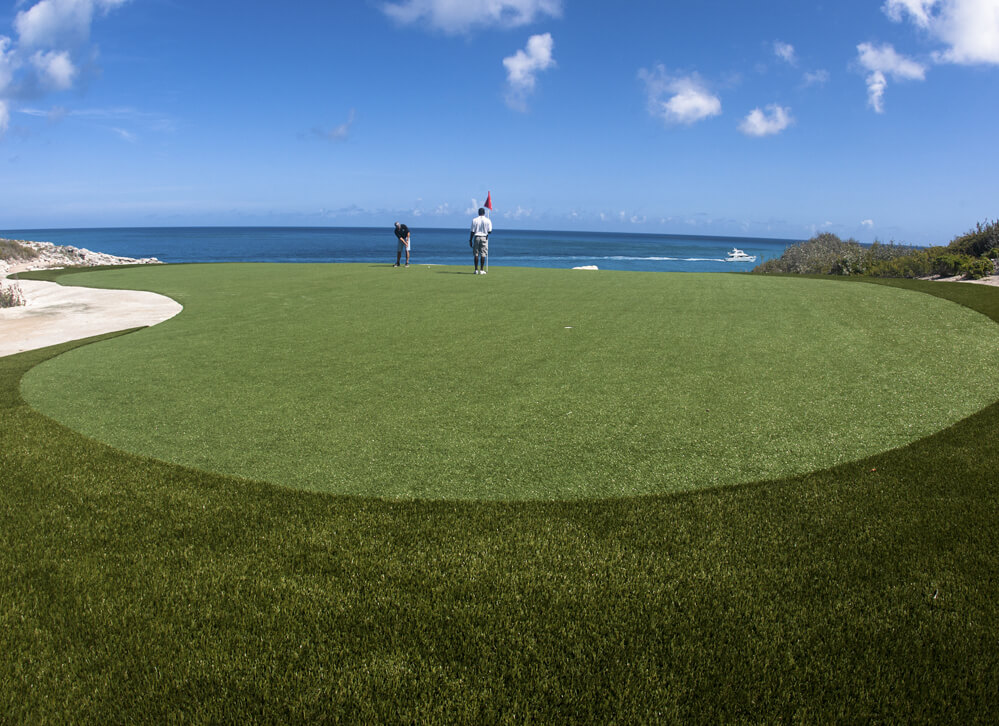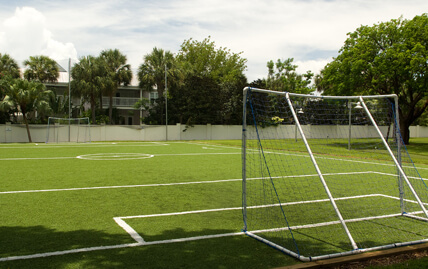 From Design to Installation and Maintenance
Artificial Turf Athletic Fields
Artificial turf athletic fields can be used day or night, regardless of weather conditions. Damp and sometimes rainy weather in San Francisco can cause turmoil to athletic fields. Damaged or poorly maintained athletic fields often see limited use, but artificial turf is virtually maintenance free and provides nearly limitless opportunity. XGrass professionally designed and installed synthetic turf allows schools and athletic facilities the ability to play all year long.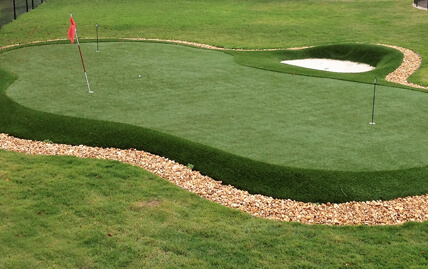 An Unmatched Selection
Backyard Putting Greens
One of the primary benefits to living in San Francisco, is that golf can be played and practiced all year round. Because of this, XGrass installs both synthetic putting greens and its exclusive Tour Greens short game green giving golfers the ability to improve every aspect of their short game with minimum maintenance and maximum convenience. Our experienced installation crews have worked with golfers throughout the world to design and install synthetic putting greens that bring the feel of a PGA Championship golf course to one's backyard.
For commercial applications, XGrass supplies everything from basic hitting tee turf to full putting courses like the 9-hole putting green course at the Grand Hyatt Retirement Home in Stanford, California.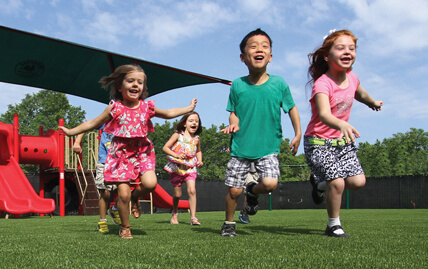 Residential and Commercial
Playground Surfaces
XGrass is a leading designer and installer of synthetic turf, bonded rubber mulch and poured in place rubber playground surfacing. We take pride in helping the play areas of schools, nurseries, parks, and other facilities in San Francisco safer. XGrass's low maintenance, IPEMA certified surfacing are completely anti-microbial and dry quickly so children can play almost immediately following a rain.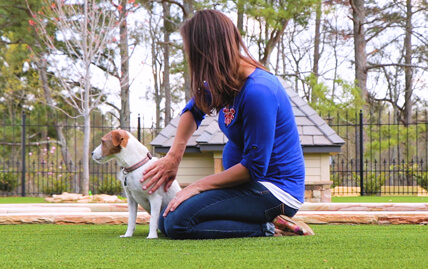 Artificial Grass for Dogs
Pet Turf & Dog Run Grass
In a 2007 San Francisco Chronicle article, staff writer Meredith May wrote, "Nobody beats San Francisco when it comes to doting on dogs. It's a city with luxury dog hotels, rooftop dog cocktail parties, a pet cemetery and City Hall plans to turn dog droppings into alternative energy. And the urban legend is actually true: Dogs outnumber children in the City by the Bay." Whether dogs outnumber children is truly accurate, we know that San Franciscans love their pets and XGrass pet turf is also very popular due to its pet friendly construction and unique backing.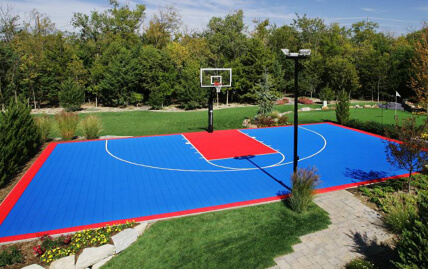 Other Services
Backyard Basketball Courts
With the growth in popularity of the Golden State Warriors, more and more kids are getting excited about basketball and residents are looking to install practice courts in their yards. The VersaCourt division of XGrass supplies outdoor and indoor basketball courts as well as tennis, paddle tennis, shuffleboard and multi-sport game courts in the San Francisco area. The VersaCourt athletic surface can be used as the resurfacing of worn-out courts or in entirely new facilities.
San Francisco, California XGrass Projects
San Francisco, CA
Hotel Del Sol
Artificial grass for courtyard
San Francisco, CA
Campbell Avenue Apartments
Artificial grass for common areas around housing complex for University of Santa Clara; Sobrato Builders
San Francisco, CA
Phoenix Hotel
Artificial grass for patio area.
Stanford, CA
Grand Hyatt Retirement Home
9-hole putting green course