A Safer, Cleaner, Easier to Maintain Playground
Christian Heritage School is a K-12 private school located in Dalton, Georgia that needed to update their elementary school playground to make it safer, cleaner and easier to maintain. See how The Recreational Group's XGrass, VersaCourt, Duraflex and Engineered Play worked together to Reinvent this Playground.
Recreational Group
Safer, Cleaner & Easier to Maintain
Our team designed a playground that was not only more fun and engaging for the kids, but it gave them a cleaner, safer place to play.
Safer – The newly designed unitary surface eliminated tripping and slipping hazards while employing shock-absorbing surfaces from XGrass, VersaCourt and Duraflex.
Cleaner – Replacing loose-fill pea gravel and mulch with synthetic turf and bonder rubber surfacing made the playground inherently cleaner.
Easier to Maintain – The XGrass, VersaCourt and Duraflex surfaces require little maintenance, drain quickly and can be easily cleaned with a hose or leaf blower.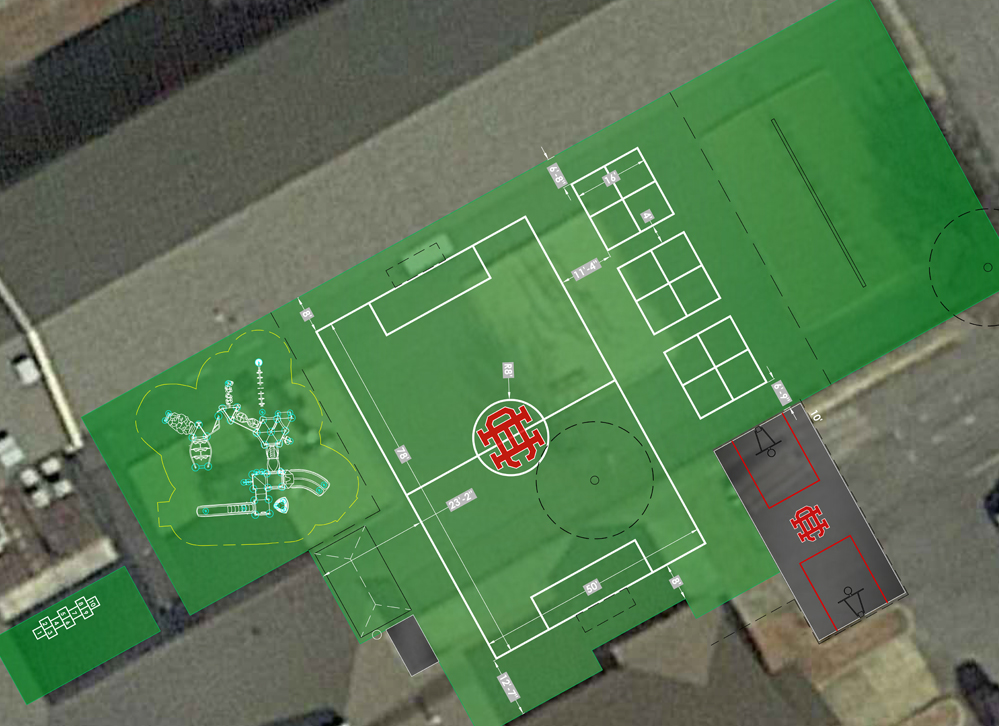 XGrass
Playground Turf
The outdated, poorly installed sport turf was replaced with an XGrass system designed specifically for children's playgrounds.
Safer – By replacing the loose-fill surfacing with IPEMA certified XGrass playground turf, the need for the decaying railroad ties that posed a tripping hazard was eliminated.
Cleaner –XGrass turf does not stain clothes, get overrun with weeds or spread all across the playground like loose fill materials.
Easier to Maintain – With professional installation of a complete turf system featuring Envirofill infill, the new XGrass turf will last for many years with little maintenance.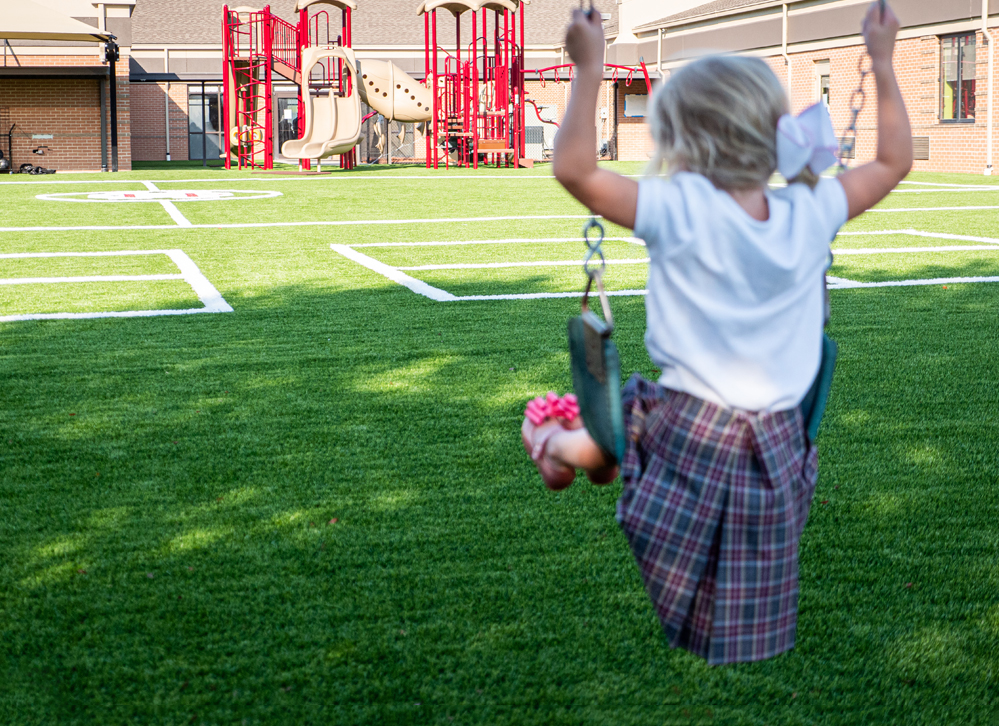 VersaCourt
Fun, Safe Basketball Court
To further achieve the school's goal of a safer, cleaner and easier to maintain playground, a VersaCourt basketball court was integrated seamlessly with the XGrass playground turf.
Safer – VersaCourt's tile features a shock absorbing design to help protect against injury.
Cleaner – The flow-through design of the tile prevents puddling and courts can be easily cleaned with a hose or leaf blower.
Easier to Maintain – VersaCourt tile systems will not crack the way asphalt and concrete surfaces do and if a tile is damaged, it can be replaced quickly and inexpensively.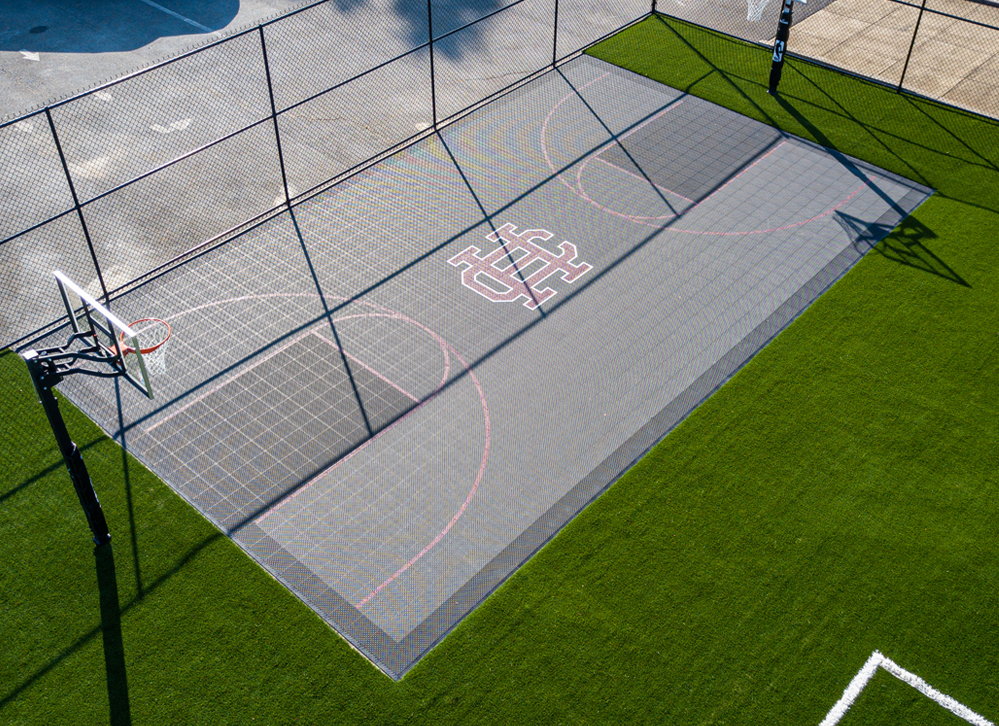 Duraflex
Bonded Rubber Rest Area
To provide the playground moderators with a clean and comfortable place to monitor the children, a bonded rubber mulch surface was installed under a shade tree complete with a bench.
Safer – The unitary surface offers solid footing for great slip-resistance that will drain and dry quickly.
Cleaner – Provides a seamless, professional appearance but will not spill onto the turf or get tracked around the playground like natural mulch.
Easier to Maintain – Unlike natural wood mulch that needs to be refreshed on a regular basis, the bonded rubber mulch requires no ongoing maintenance.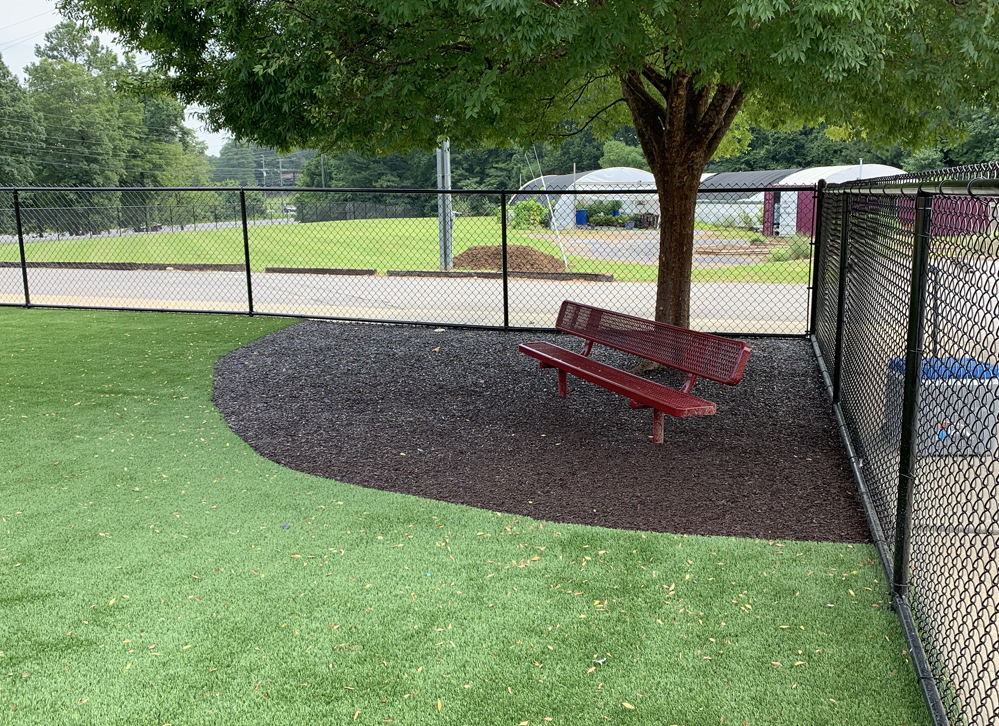 Engineered Play
Professional Installation
Safer – Engineered Play installed age-appropriate equipment and outfitted several areas with sun-shades for added safety.
Easier to Maintain – The professionally installed playground equipment and safety surfacing will provide years of low maintenance use for the elementary school children.
XGrass
Polygreen Foam Padding
The previous grass turf for CHS elementary was poorly installed over a rock foundation that left the playground surface hard, uneven and dangerous. By outfitting the entire play are with impact absorbing padding, it provides a soft, safe cushioning system beneath the turf.
Safer – Polygreen Foam offers consistent ASTM F1292 HIC and GMAX ratings and will retain the shock absorbing characteristics for many years
Cleaner – Polygreen Foam is completely non-microbial and performs for years without decay, deformation, mold or fungus growth while its unique drainage characteristics keep playgrounds drier, safer and cleaner.
Easier to Maintain – In addition to the safety characteristics, Polygreen Foam is designed to inhibit weed growth and does not require continual upkeep of loose fill surfacing.