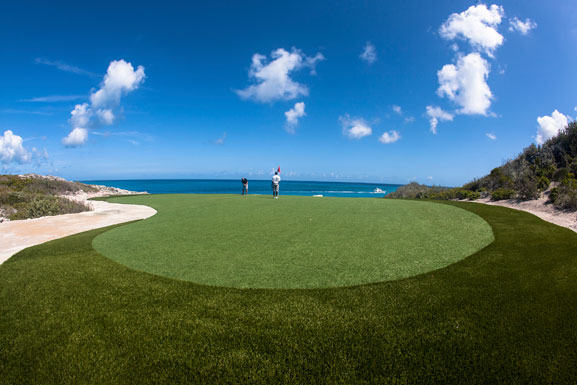 Tour Greens, a national installer of synthetic turf golf greens, has partnered with Over Yonder Cay to provide a one-of-a-kind golf experience. The nine-hole par three course, positioned throughout the island, was built with Tour Greens high-performance synthetic turf system.
Over Yonder Cay approached Tour Greens with a problem; they needed to create a golf course that was friendly to the environment, without sacrificing playability. The island owners contacted the team at Tour Greens to help turn this idea into reality. The course, which uses Tour Greens high-performance in-filled turf system, looks and reacts like real grass without the constant maintenance and water requirements.
"The Tour Greens system was designed to be one of the most realistic turf products on the market," said Will Lambert, Vice President of Sales at Tour Greens. "Golfers will find that this course is not only beautiful, but also a fantastic surface to play on."
Over Yonder Cay is part of the legendary Exuma chain in the Bahamas, which is famous for its white limestone rock formations and bright blue waters. The Tour Greens installation team and the island owners collaborated on a golf course design that placed the nine holes throughout the island in order to give players a challenging round, along with breathtaking views of the exotic environment.
The golf course is only available to visitors of the resort, with accommodation of up to 28 guests. This allows for the added bonus of not having to schedule tee times or wait on a slow group playing ahead. Golfers can relax, enjoy the view and play at their leisure.
To learn more about Tour Greens synthetic turf golf greens and practice areas, please visit: http://www.tourgreens.com/
For more information about Over Yonder Cay, please visit: http://www.overyondercay.com/