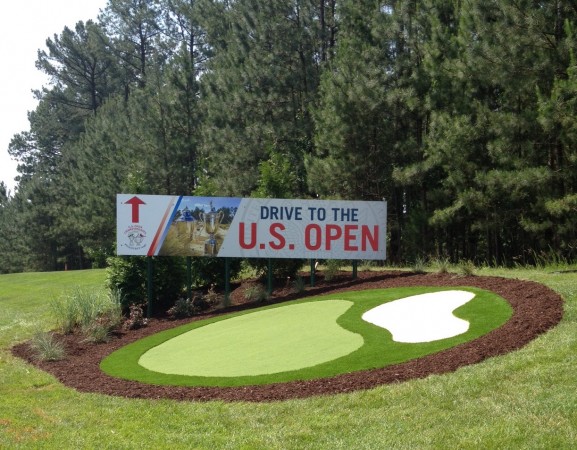 Tour Greens and Ultimate Turf worked with the North Carolina Department of Transportation to design and install unique signs advertising the U.S. Open and U.S. Women's Open Championships in Pinehurst, NC.
The signs were posted outside of North Carolina's three international airports, Charlotte Douglas, Raleigh-Durham, and Piedmont Triad, in an effort to promote the upcoming tournament and help direct visitors to the Pinehurst Resort.
The North Carolina Department of Transportation chose Tour Greens to provide a synthetic turf surface that was not only aesthetically pleasing but also durable and weather-resistant.
Derek Smith, an engineer with the NCDOT, gave the Tour Greens installation team high-praise for the work that they did on the project. "It was my pleasure to work with Jim, Richard and Jeremy to install the 4 US Open wayfinding greens in Charlotte, Greensboro and Raleigh," Smith said. "You have an excellent install team that represents your company very well."
The project was developed as part of "Art that Moves You" – a state initiative to improve infrastructures and landscapes throughout North Carolina.
Read more about this project in the Charlotte Business Journal.
For more information about Tour Greens installations, please visit www.tourgreens.com